Garage doors might malfunction at any time, which happens for many reasons. However, the problem needs to get fixed right away. Otherwise, your garage door might prohibit your car from leaving the garage. This can be inconvenient for people trying to go to work or run errands. Getting the garage door serviced promptly can make a massive difference in the outcome of your particular situation. Stuck garage doors can cause various problems, and some of these situations are potentially dangerous. This is why we encourage you to keep our number in a convenient location.
When your door doesn't operate properly, you want it fixed now. That's why Overhead Door Company provides 24-hour emergency service. Any door. Any opener. Any time.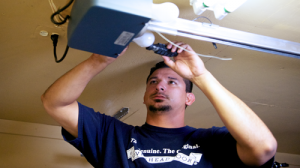 Our trained service technicians will not only get your garage door operating properly, they'll use parts with a 100% lifetime guarantee. If, under normal usage, any part installed by Overhead Door Company of Houston fails, a new replacement part is free. Period. You pay only the standard service charge. It's a guarantee you can only get from The Original Overhead Door Company of Houston.
Garage 24-Hour Service
Garage door services are available around the clock because our customers might experience a stuck garage door at any time of the day or night. The value of our 24-hour services is significant. They extend beyond our ability to resolve your garage door issues: This service gives you the peace of mind you need. This will enable you to know that there will always be someone available to take your call and deal with the problem right away. Overhead door services can get you out of a sticky situation on time. Because they are offered on a 24-hour service call, you can always know that someone is available to resolve your overhead door problem. 
Benefits of 24-Hour Service Overhead Door Services
The overhead door can become stuck due to worn parts, weather, and other factors. The benefit of having access to a team of professionals to do the 24-hour service include safety. Overhead doors might conceal dangerous underlying problems, for example. They might cause accidents to happen before you even realize the nature of the problem. This is why it's more beneficial to work with a professional company than to attempt to fix the garage door yourself. We offer our customers the additional benefit of a guarantee on services and replacement parts. 
 Problems with overhead doors might happen during any time of the day or night. This is just part of the overall problem with these doors. For example, extreme weather events could increase the complexity of the problem. Snow and debris caused by high winds are other factors that contribute to the overhead door issue. Some situations can be resolved without repairing or replacing any parts; however, we can undoubtedly handle situations requiring a replacement or repair. 
Our 24 Hour Service Team
Our company offers premium 24-hour service for all kinds of overhead doors. This is family-owned and operated by a dedicated group of professionals. We have the experience necessary to analyze your situation and take the most appropriate measures. Each client is treated with respect and friendly interactions. We use high-quality replacement parts, and our work comes with a guarantee on parts and services. Each member of our team was hired based on a track record of excellence. Contact us today for additional information or to get a free service quote.