How can we help you with your Garage Door Houston?
This is the one place you can get genuine, the original Overhead Door in Houston. Whether it's 24-hour guaranteed service of your garage door Houston, or a new one, you can trust The Overhead Door Company of Houston. Contact one of our trained professionals, or call us.
CALL US NOW: (713) 667-1757
If you're new to the world of garage doors, you might be surprised at how varied they are. They come in a rainbow of colors and a wide range of styles.
Are you seeking a garage door for your Houston home? If so, here's a look at the options you have for your "garage door Houston" (as we'll call it).
Garage Door Houston Materials
To begin with, what will your garage door Houston be made of?
Wood
Wooden garage doors — especially wood carriage house doors, which resemble fancy barn doors — can be decorative masterpieces. They might even boost your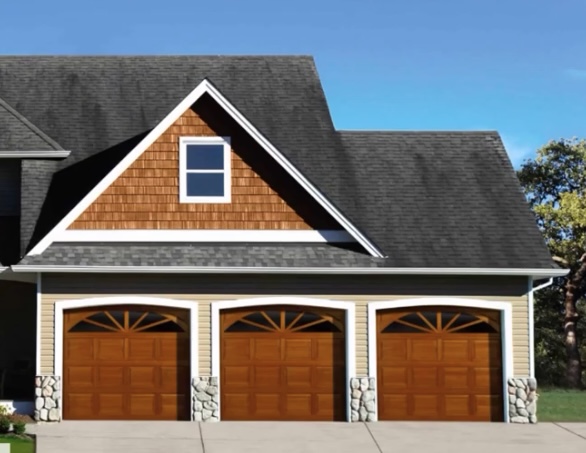 home's value. Wood, however, requires the most effort to maintain.
Note that many different types of wood are available, including cedar, mahogany, red oak, and alder.
Steel
Steel garage doors are affordable, easy to clean, and simple to take care of. They last a long time. And they often look new even after years of usage.
Other Options
Garage doors can also be constructed of iron, copper, vinyl, fiberglass, aluminum, and more. Each material has its benefits. And, for a particular combination, you could order a custom-made product.
Insulation
An insulated garage door Houston is preferable to a non-insulated one. The insulation will make the door more robust, solid, and durable. Moreover, it will ward off rust, dents, and other damage.
Not to mention, an insulated garage door Houston is more energy-efficient.
Windows
Glass windows are appealing features for garage doors; they contribute to the look and style. Plus, if you like working in your garage, you might appreciate the extra sunlight.
Keep in mind that windows will probably cost you a little more. On top of that, you'll have to keep washing them over time!
Safety Features
These days, garage doors can be pretty high-tech, and they're safer than ever. For instance, sensors will stop your moving garage door if they see that a person, animal, vehicle, or other item is about to get hit.
In addition, rolling code technologies will block someone from opening your garage door Houston if your remote ever gets lost or stolen.
Finding the Right Garage Door Houston Company
You'll have other garage door-related decisions to make as well — the horsepower of your motor, for instance. Fortunately, an expert garage door installation company can help you make all the right choices.
Naturally, you'll want a company that's fully licensed and insured, one with plenty of glowing reviews and references from past customers. And its employees should be well-trained, friendly, and professional.
The Overhead Door Company of Houston is just such a company. We've been installing garage doors of the highest quality for nearly nine decades. Our installations are flawless, and our team is always ready to answer questions and provide advice.
Give us a call, and you'll soon have a garage door Houston you'll be proud to open and close.