Our company offers exquisite design and material options for anyone interested in customizing an overhead door for your garage. There are plenty of designs and styles to consider when selecting your ideal overhead door. The curbside appeal affects the value of the property. A beautiful overhead door enhances the home's market appeal. Improve the quality of life with a new garage door customized to accentuate the most appealing attributes of your specific building. Our new interactive design tool enables customers to design their dream garage door from the convenience of an online platform. This exciting technology allows you to see how the actual garage door will look on a photo of your home. Visualize the final result before making any financial commitments.
Use our new online interactive design tool. Or, use our new iPad app to see how your home will look with a new garage door from The Overhead Door Company of Houston.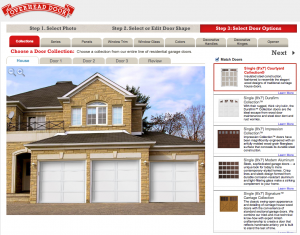 Create your own custom exterior from our broad range of Garage Doors to suit every style and budget. You can even upload a photo of your home to see how any of our doors will look on your home.
Selecting a Garage Door 
 Various attributes of your home provide vital clues as to what kind of overhead door best complements the façade of your home. Once you find the perfect option for your home, it will blend into the building as if it is part of the original structure. This stylistic element is essential for maximizing the curbside appeal of the property. 
 Our service team is dedicated to assisting in selecting the best features for your new garage door. This process is critical, so we help you every step of the way. Authorized representatives can help you. Count on their experience to make this process enjoyable and informative. 
 Garage doors customers are often looking for an enhancement to their home. These overhead doors are designed for residential properties, but we have a wide selection available for commercial structures. Find the best fit for your business property, and improve the external appearance of your company. These high-quality commercial garage doors are great for marketing photo shoots; they show off the best angle of your business property. 
 The garage door selection process may include many options: 
Classic, traditional, and carriage designs

Long or short panels that are either raised or recessed 

Complement the garage door with various window styles

Decorative handles and hinges for a final flair

Aluminum garage door designs for modern exteriors
 Customized Overhead Doors
 Selecting a quality overhead door can be fun. Leverage the knowledge of our experienced service and maintenance team. We can help you determine the best overhead door for your design preferences, budget, and stylistic sensibilities. Choose from steel, wood, fiberglass, or vinyl materials. Each custom garage door will also function in a particular manner, which should be considered. 
 Various garage door options can fit within any of your stylistic preferences or budget limitations. You can select from a wide range of styles to accentuate the overall appearance of the exterior. This is an attractive addition to the property, which improves its curbside appeal. This is a wise investment strategy for homeowners seeking to improve the equity of the property. Our team is capable of advising you during the selection process, so contact us today.
Activate our exclusive Design-A-Door tool by completing this form: