See Overhead Door Company's Custom Wood Doors
The natural beauty of wood has been an appealing design element used on the exterior and interior of homes for countless generations, so it makes sense to consider incorporating it into your curb appeal. Your garage doors are a significant component of your home's curb appeal, so the cladding and style of the doors will make a bold statement about the house and its owner's style. A beautiful solution to consider for updating curb appeal and beautifying the garage doors is installing custom wood-clad doors. Are these suitable for your space? Our team at Overhead Door is available to help you answer that critical question.
The Appeal of Custom Wood Clad Doors
Through Overhead Door, you can select from a beautiful variety of styles for your new garage door. Custom wood-clad doors may be made out of solid wood or faux wood. Regardless of the specific wood material selected, your new garage doors can be lovely options that infuse your home's façade with a sense of natural warmth and sophistication. Wood has a timeless appeal, and its functionality extends to both roll-up doors and overhead sectional doors. More than that, it has excellent insulative properties and is highly durable when properly maintained. Many of the wood garage door styles that we offer have excellent wind ratings and are well-suited for the local climate.
Top Models of Custom Wood Clad Doors
At Overhead Door, we are proud to be your source for wood garage doors. We understand the importance of finding the right style for your home, and we assure you that you will never feel constrained by a lack of options when you choose us as your garage door installer. From ArmRLite and TimbRLite to CI, Titan, and others, we carry an excellent selection of styles from leading brands. For all brands, numerous finishes and various design options are available, and this makes it easy for you to incorporate the perfect look into your home's curb appeal.
Installation and Repair Services
We are a full-service garage door company. While we are excited to install your home's custom wood-clad garage doors soon, we also want to continue serving you in the years ahead. At Overhead Door, we specialize in maintenance and repair services for garage doors as well. Regardless of the professional assistance that you need with your home's garage doors, we are the team that you can count on to provide you with quality doors and exceptional service for installation, maintenance, and more.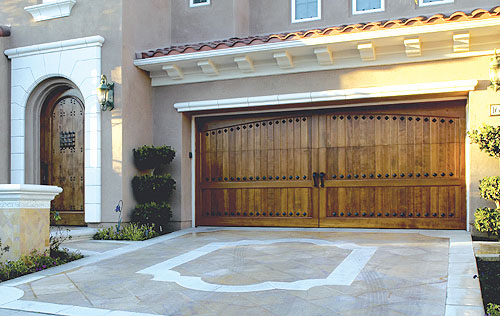 Request a Quote Today
Are you wondering how affordable it could be to upgrade your home's curb appeal with custom wood-clad doors? We are eager to help you explore the possibilities for your home and complete the full installation of your new garage doors. Contact Overhead Doors today to request a consultation and a quote to get started.
Are custom wood-clad doors right for you?
There's no denying how custom wood-clad doors enhance the appeal of your home. See how Overhead Door Company of Houston creates and installs them in this video. Then, contact us to find out how we can make a custom wood-clad door for your home.