You need a garage door that works every time. That's why you chose a genuine, original Overhead Door. Our doors are built for long-lasting, trouble-free performance. Overhead Door Repair is one of our specialties, our service technicians make sure it always stays that way.

 Overhead Door Repair Experts Houston TX
At Overhead Door Repair, we prioritize quality over everything else. We can have your garage door working like new in Houston, TX. All our repairs come with a generous warranty, and you can count on us to provide you with high-quality work. You might never need to use that exceptional warranty.
Is your garage door crooked or malfunctioning somehow? Let our professionals come to your location and take a look at it. We can also respond to emergencies, so there's always a good time to call us. Every time we come to a job, we put our reputations on the line, which is why we go through so much effort to ensure that the work we provide is always our best.
We are also committed to ensuring that you get excellent customer service with everything we do. Maybe your garage door needs a minor repair, or you need to replace everything. Either way, we can be there in a flash to help you make the right decision. When your safety and security are on the line, let us come by and do the job as quickly as possible.
Commercial or residential, it does not matter to us. Our specialists understand garage doors and know how to fix them. We can get everything working just like new.
We understand that you have many options available to you in the city of Houston, TX. It is why we go through so much time and effort to ensure that you are getting high-quality service from our trained technicians. We can replace rails, provide you with new glass, fix the sensors, or even replace the entire door. If you are looking for the best garage door repair company in Houston, Overhead Door Repair is the company you should trust.
Garage Openers
We don't just work on the physical parts of your garage door. We can help you with the garage door opener as well. We ensure that you get a compatible model for your specific garage door, and we can help you set things up. It ensures that you have a working garage door and opener combination that you can trust.
Door Installation
Our service goes well above just repairing your garage door. While garage door repair is our specialty, we can also install new ones, service existing residential and commercial doors, and even work with custom doors as well. There is no garage door repair job that is too complicated or challenging for us. We have the necessary tools and know-how to deliver outstanding results every time.
About Our City
We are located in Houston, TX, and we are proud of this fact. It is a city with many faces, and it is one of the largest metro areas in the entire country. We serve this wonderful place and surrounding areas. You can contact us and learn about our exceptional service and commitment to quality.
If you need garage door repair in Houston, Texas, contacting us will be one of the best decisions you could've ever made.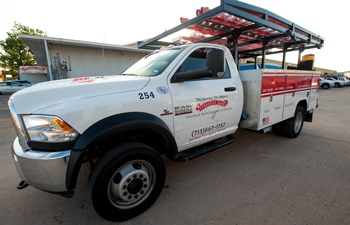 When you call, we send a technician who's been screened, trained, and certified to provide 100% reliable service. You shouldn't accept anything less for your genuine, original Overhead Door.
Even if your door isn't an Overhead Door Company brand door, our technicians can still provide you state-of-the-art service, no matter what brand door you own. Whether you have a single door on a two-car garage, or a commercial facility with many overhead doors, Overhead Door Company of Houston has crews specifically trained to keep your door running properly.