Envy Model 956 for homes and Model 522 for business
These glass garage doors feature glass panels mounted to an aluminum frame for an all-new aluminum full-view design. The result is a modern, frameless look that is perfect for high-end residential and commercial applications.
Model 522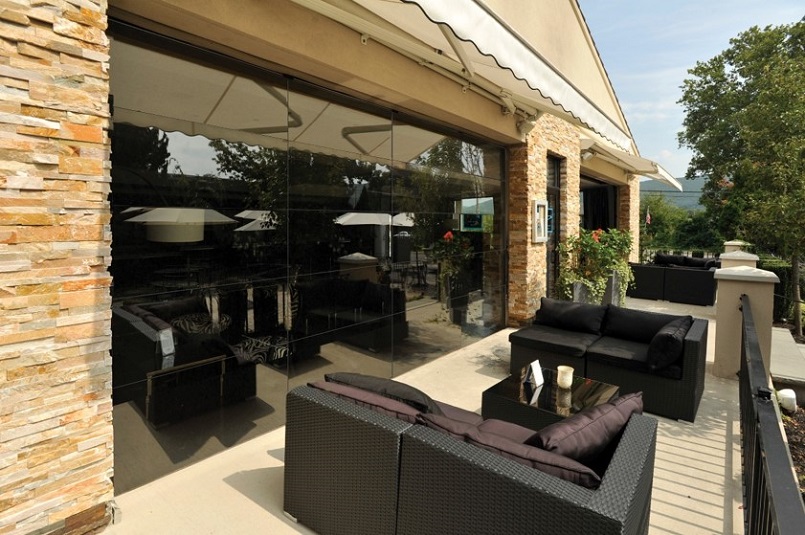 Aluminum Glass Door model 522 is designed in sizes up to 18' 2" (5486 mm) wide and 14' 1" (4318 mm) high. This aluminum full-view door, featuring a frameless design, is ideal for restaurants, auto dealerships and any application where the door needs to integrate seamlessly with the aesthetics of the building. Available with five glass options.
Model 956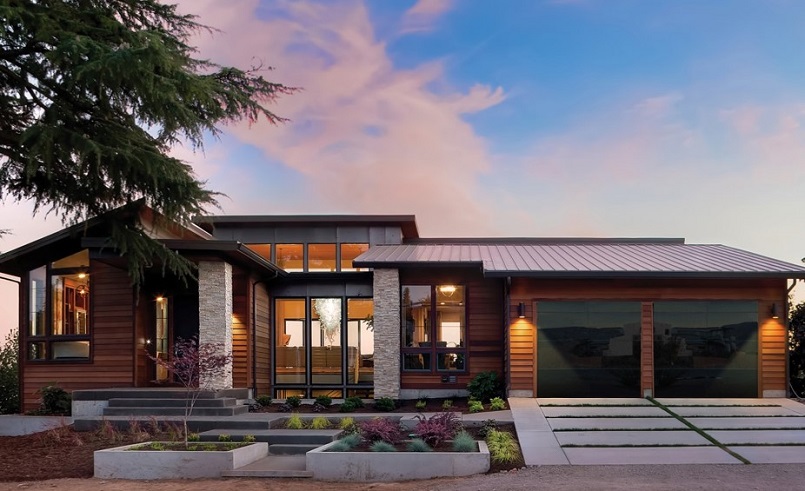 Envy™​ Model 956 is an aluminum full-view door, featuring a frameless design, will be the talk of the neighborhood. Envy™ Model 956 features Glass panels, mounted on top of an aluminum structure to create a completely sleek and modern look.
Sometimes, people fail to think about the style of their garages. However, this type of space is an essential part of a home's exterior aesthetic. It is critical to a business as well. Instead of boring and plain white designs, glass garage doors are fun and functional alternatives. They bring a spark of interest to a house and can add character to your property. Although they are not as recognized as conventional doors, it is important to look at the benefits of glass garage doors.
Raise Value with Curb Appeal
 To repeat, your garage takes up a great deal of your exterior space. This means that your garage door is an important part of your property's aesthetic. If you want to achieve a modern look that matches the structure and design of your contemporary home or business, glass garage doors are ideal. When you have maximum curb appeal, the value of your property increases.
Maximize Living Space
 Many people use their garages for storage. However, other people convert these spaces into extra rooms. Sometimes, an individual uses a garage as a home office or a gym space. Thanks to glass garage doors, you can enhance the natural light that enters the area. Since these types of doors are available with mirrored or frosted glass, you do not have to lose your privacy.
Strong Against Outside Weather Elements
 Although it may seem as though glass garage doors are not strong enough to weather the outside elements, this is not the case. These types of doors are crafted to offer protection from heavy rain and strong winds. You will not have to worry about damage or making repairs.
Low Maintenance
 With conventional wood or metal garage doors, it is typical for the sun and the extreme weather conditions to wreak havoc. This means that you have to paint and maintain the doors so that they remain looking their best. On the other hand, glass is much easier to clean. With a simple soft cloth, you can remove dirt and debris. This saves you time and plenty of headaches.
Various Colors Available
 You want your garage door to match or to complement the color of your home or business. Luckily, glass doors are available in many tint options and aluminum frame shades. Therefore, you can select the door that best matches your existing decor. This provides a modern upgrade to your property.
 When you want to transform your home's exterior appearance, you may consider updating your garage doors. Glass garage doors add value and curb appeal. Also, they lower your maintenance worries. They are viable options for businesses as well. You can customize the doors to fit your needs, wants, and budget. At the Overhead Door Company of Houston, we stock all types of garage doors. To learn more about the benefits of glass varieties, contact us at 713-667-1757.