The Advanced Service door provides top performance, durability, and appearance with energy efficiency and reliability for the most demanding door applications. It provides you with the strength and security of a steel roll-up door combined with the opening speed and long life of a high-performance door.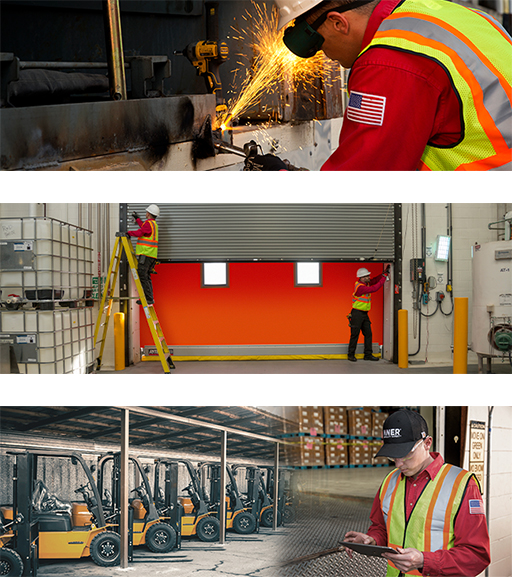 Opening Speed
 A door that opens and closes faster provides some essential benefits. It improves productivity by allowing more rapidly moving into and out of the building. It also cuts down on energy consumption by reducing outdoor air movement into the building. Advanced Service doors operate at a speed that minimizes open time without reaching a dangerous speed.
Direct Drive Motor
 An Advanced Service door will provide you with unmatched reliability. One key to reliability is to keep the design simple. A door with too many moving parts in a complicated drive system offers too many opportunities for breakdowns. That's why Advanced Service doors utilize a direct drive system that eliminates the danger and hassle of broken springs.
Universal Parts
 Operations can quickly become complex and expensive when an overhead door goes out of service. Vehicles could be trapped inside, or inventory could be re-routed through operational doors. Repair time should be as short as possible, and often the biggest reason for slow door repair is difficulty in locating parts. The doors uses universal components that simplify getting repairs and maintenance done, reducing downtime and lowering costs.
Adaptable Weather Features
 Every area has its unique weather demands, and these doors can be customized to meet those needs. Whether the unit is installed in hurricane country or the frigid northeast, a variety of insulation choices, wind load ratings, and weather seals allows the customer to create the perfect door for their local needs, optimizing energy efficiency and safety.
Advanced Service Door Warranty Protection for Peace of Mind
 Advanced Service doors are top performers in reliability, but they still have excellent warranty coverage. The unit has limited warranty coverage for two years or 300,000 cycles, and the motor has a limited warranty for five years. You can purchase Advanced Service doors with confidence.
Field-Installed Options
 While the quality of Advanced Service doors is a good fit for any customer, special features can improve efficiency and performance in certain situations. Customers can personalize their doors with radio controls, horn activation, and motion-detecting technology to get the configuration that will work best for their needs. You can also add access points for stricter security. These can be operated with access cards or by entering a passcode into a keypad.
Durable, Personalized Finish
 The first line of protection for your door is the finish applied to its surface. Advanced Service doors are available powder-coated in any of 215 stock colors and custom colors. You're guaranteed to make the color match you want for a perfect finished look on your building.